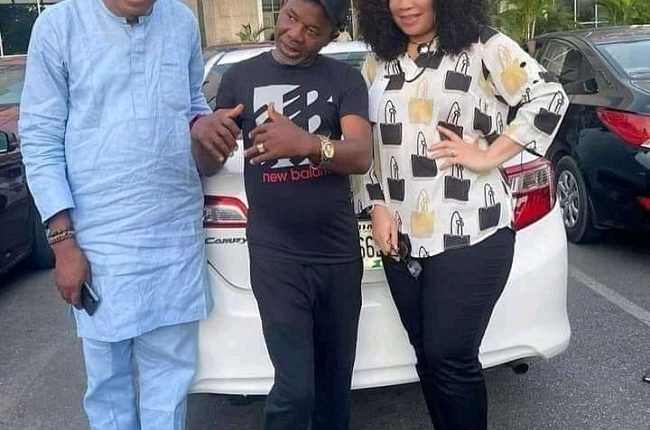 Veteran actor Chiwetalu Agu has been released from being held in custody by the Department of State Services (DSS) in Abuja.
The release was reportedly secured with the intervention of the Actors Guild of Nigeria (AGN).
According to a statement signed by the AGN Communication Director, Monalisa Chinda,  "The National President of the Actors Guild of Nigeria, Ejezie Emeka Rollas, has yet again secured the release of Actor Chiwetalu Agu from the custody of the DSS.
"On behalf of the Guild, I was at the DSS office with my colleague, the Senior Special Assistant on Military Affairs and Inter-Governmental Relations to the President, Steve Eboh, to receive Mr Agu today.
"The elated veteran actor thanked God for surviving the ordeal and commended the leadership of the Actors Guild of Nigeria headed by Ejezie Emeka Rollas for their relentless efforts in securing his release from the detention."
Agu had been arrested by the Nigerian Army last week in Onitsha, Anambra State, for wearing an outfit said to be Biafra regalia.
The army said wearing this outfit was soliciting support for the proscribed Indigenous People of Biafra (IPOB). 
Agu was released by the army but was subsequently picked up by the DSS and flown to Abuja.
YOU SHOULD NOT MISS THESE HEADLINES FROM NIGERIAN TRIBUNE
Lagos Is Second Least Liveable City In The World For 2021
Lagos is the second least liveable city in the world for the year 2021. This is according to the most recent annual ranking put together by the Economist Intelligence Unit (EIU)…
FACT CHECK: Did UNICEF Say Blocking Children's Access To Pornography Constitutes Human Rights' Infringement?
CLAIM 1: A Twitter user claims UNICEF said any efforts to block children from accessing pornography might infringe their human rights.
VERDICT: MISLEADING!